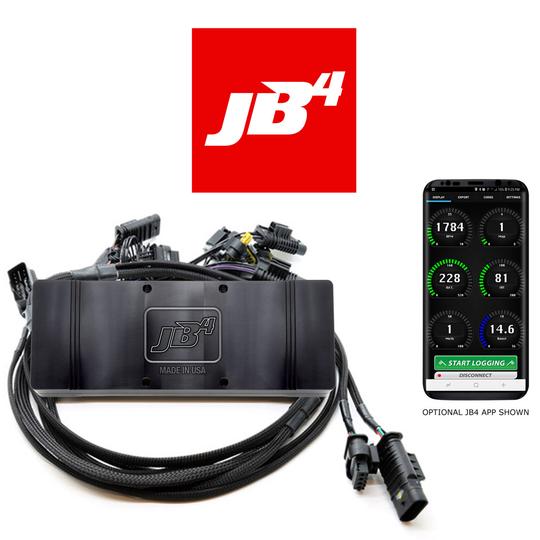 Burger Motorsports BMW M3/M4 S58 JB4 Tuner (G80/G81/G82/G83)
⦿ Available for pre-order.
► Free UK Delivery On Orders Over £99!
► Price Match Guarantee. Found a lower price? Get in touch
► Finance available with Klarna! Learn more
Optional Device Connection:
None
The ultimate tune for your S58 powered G80 M3 and G82 M4, the JB4 allows you to go from factory stock to full race, and everywhere in between. The JB4 installs and removes easily and includes many unique features not found in any other tune including user-adjustable 1st and 2nd gear boost limiting, smartphone integration, electronic wastegate control, ethanol fuel support, and built-in advanced CANbus based diagnostic tools. Installation is easy and completely removable with no splicing or cutting of factory wires. 

For the latest performance results, updates, firmware, and map guide be sure to visit N54tech.com.
Wirelessly connect the S58 JB4 to your Bluetooth 4.0 compatible iOS and Android device via the JB4 Mobile connect kit, or to your Windows laptop with the BMS data cable. Both options allow you to record and analyze vehicle and tuning data, change JB4 performance maps, and update S58 JB4 firmware as we release free newer versions with updates, more powerful maps, and new features under development. A separate JB4 Mobile app purchase is also required.
FEATURES
• Gains are 80whp/100wtq on pump gas and up to 150whp/175wtq on higher octane or E85 mixtures.
• Improves 0-60 times and 1/4 mile times
• Preloaded with custom JB4 tuning software and up to 8 maps for various fuel and modification levels
• Ethanol (E85) compatible tuning maps
• Able to read/delete fault codes
• View and record up to 40 different gauges/engine parameters in real-time with the JB4 app.
• Boost by gear in 1st, 2nd, and 3rd can be controlled via the JB4 app for a perfect launch
• Compatible with JB4 Mobile for smartphone logging, tuning changes, and adjustment
• The JB4 offers a lot more performance, functionality, and safety than your average performance chip
• Quick Plug & Play Installation
• CANbus OBDII integration offering unrivaled tuning features and performance
• Improved performance over non-integrated chip tunes
• Runs as smoothly as stock, this is how your vehicle should have come from the factory
• Compatible with all driving modes
• Fuel economy unchanged during normal driving
• 91 octane fuel or better required for performance gains
• Not VIN locked and can be removed without a trace and resold down the road
• Includes the rugged JB4 billet aluminum enclosure for protection
• Made in the USA
• Free USA Shipping
• 5 year warranty
What is a JB4?
The JB4 is a plug & play tune available for turbocharged vehicles. The JB4 tuner installs between your car's sensors and its DME/ECU (computer) and manipulates vehicle performance through these connections making your vehicle much faster. While it's not the only tuning system that operates this way the JB4 separates itself from the competition with much more advanced connection points and processing including CANbus, fuel & spark control, Bluetooth to your smartphone, and a variety of innovative and advanced features not possible with any other system. BMS regularly publishes free mapping and firmware updates adding performance and features as ongoing development allows. In addition, the JB4 system is not VIN-locked to your vehicle and can quickly be removed and swapped between cars or resold at a later time. Often imitated but never duplicated the JB4 has been the gold standard in plug and play turbocharged performance tuning for over a decade.  If your looking for S58 tuning for your 2021+ G80 M3 or G82 M4 the JB4 is a perfect S58 engine tune. 
COMPATIBILITY 
2021+ S58 G80 BMW M3
2021+ S58 G80 BMW M3 Competition
2021+ S58 G82 BMW M4
2021+ S58 G82 BMW M4 Competition
WARRANTY
Please see Burger Tuning's website for full details about their warranty. 
SHIPPING AND RETURNS
We offer worldwide shipping on all products.
If upon receiving your product you wish to return it, we offer a 30-day returns policy. For our in-depth returns information please follow the link. "R44 Returns Policy"
We get a large number of custom orders and requests everyday, so as a result it is not always possible for us to keep every item in stock at all times in our warehouse. If you require the item urgently please contact our sales team here to check the stock before you make your purchase.
We totally understand if you're not certain a part will be compatible with your car, so we highly recommend contacting us here with your query. Our friendly sales team will then be in touch to confirm if this part is the correct part you are looking for.
All in stock products ship the same day if ordered before 2pm GMT
For out of stock items we will contact you with an estimated wait time if not otherwise specified above.
We offer worldwide shipping on all products. If upon receiving your product you wish to return; we offer a 30-day returns policy. For our in-depth returns information please follow the link. "R44 Returns Policy
All of our products come with a standard warranty of 1-3 years. This is dependant on the type of product however. For more details please see our warranty page here.