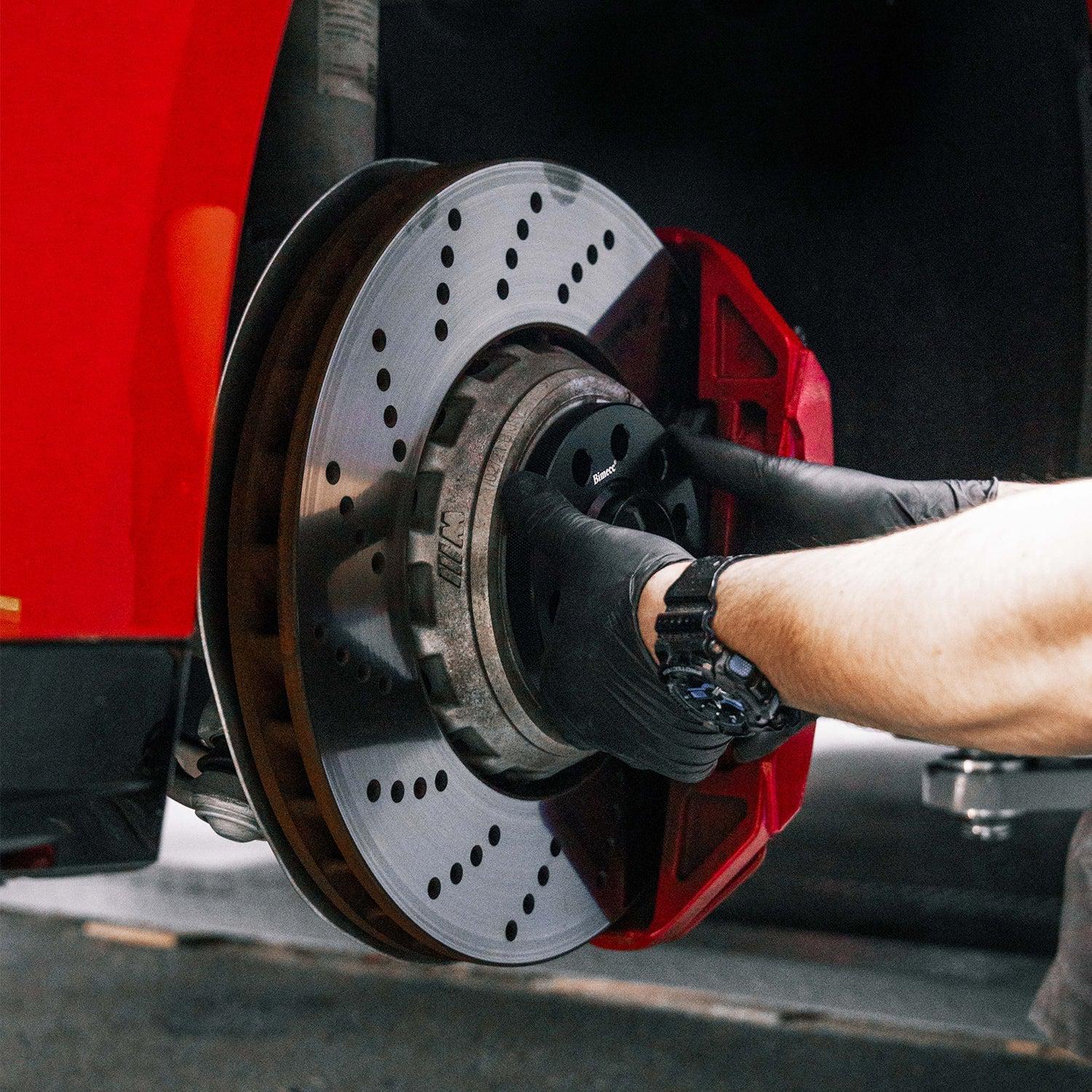 Bimecc BMW F Series Wheel Spacers (M140i, M240i, M2 F87, M3 F80, M4 F82 & more)
⦿ Available for pre-order.
► Free UK Delivery On Orders Over £99!
► Price Match Guarantee. Found a lower price? Get in touch
► Finance available with Klarna! Learn more
Bimecc BMW F Series hub-centric wheel spacers for M140i, M240i, M2, M3, M4, and many more models! Spacers are a great way to add a wider looking stance to your car and fill the wheel arches. Made from high-quality aluminium they are highly durable but still lightweight.
PRODUCT SPECIFICATION
- Machined from Aluminium with black zinc coating added for durability
- Lightweight and durable
- Specifically designed for the latest BMW vehicles
- 5 X 120 PCD
- 72.6 Centre Bore
- TUV Approved
- 4 sizes available; 10mm, 12mm, 15mm, & 20mm
- Bolts: 60-Deg Taper M14 x 1.25
COMPATIBILITY
Generally, BMW vehicles launched between 2011 & 2018 will require these wheel spacers. See the full list below for details.
- BMW F20/F21 1 Series (incl M135i & M140i)
- BMW F22/F23 2 Series (incl M235i & M240i)
- BMW F30/F31/F34 3 Series (incl 335i & 340i)
- BMW F32/F33/F36 4 Series (incl 435i & 440i)
- BMW F80 M3 Saloon (2014-2019)
- BMW F82 M4 Coupe (2014-2020)
- BMW F83 M4 Convertible (2014-2020)
- BMW F87 M2 Coupe (2016-2018)
- BMW F87 M2 Competition Coupe (2018-2020)
- BMW F25 X3 (2014-2017)
- BMW F26 X4 (2014-2017)
RECOMMENDED SETUPS
All setups are recommended with stock wheels and stock suspension but all recommendations work well with H&R & Eibach lowering spring kits.

-M235i / M240i
Stance – 12mm Front and 15mm rear
Stance ++ - 15mm front and 15mm rear

-M135i / M140i
Stance – 12mm Front and 15mm rear
Stance ++ - 15mm front and 15mm rear

-M2
Stance - 12mm Front and 12mm Rear
Stance ++ - 12mm Front and 15mm Rear

-M2 Comp
Stance - 10mm Front and 12mm Rear
Stance ++ - 12mm Front and 12mm Rear

- M3
Stance - 15mm Front and 15mm Rear
Stance ++ - 20mm Front and 20mm Rear

-M4
Stance - 15mm Front and 15mm Rear
Stance ++ - 20mm Front and 20mm Rear
KIT DETAILS
2x / 4x Hub-centric wheel spacers
8x /16x Extended black wheel bolts
2x / 4x Locking wheel bolts
1x Locking Key
WEIGHT
- 2.4 kg bolts + spacers
- Spacers 1.7 kg
DISCLAIMER
Before Wheel Spacers and supplied Bolts are shipped to the customer, we check that they will be suitable for your vehicle. During installation you must check that they are suitable for your vehicle and the bolts supplied are correct. R44 Performance cannot be held liable if an issue occurs and it was not reported to us beforehand.
We get a large number of custom orders and requests everyday, so as a result it is not always possible for us to keep every item in stock at all times in our warehouse. If you require the item urgently please contact our sales team here to check the stock before you make your purchase.
We totally understand if you're not certain a part will be compatible with your car, so we highly recommend contacting us here with your query. Our friendly sales team will then be in touch to confirm if this part is the correct part you are looking for.
All in stock products ship the same day if ordered before 2pm GMT
For out of stock items we will contact you with an estimated wait time if not otherwise specified above.
We offer worldwide shipping on all products. If upon receiving your product you wish to return; we offer a 30-day returns policy. For our in-depth returns information please follow the link. "R44 Returns Policy
All of our products come with a standard warranty of 1-3 years. This is dependant on the type of product however. For more details please see our warranty page here.